Introduction :
Welcome to Civil Engineering Department at King Mongkut's Institute of Technology Ladkrabang. We invite you to discover the challenges and excitement in Civil Engineering and explore our diverse teaching program and the wide range of research currently being undertaken by our staff and research students.
In addition, the Department is also available for public services such as materials testing and certification. Staff are also involved in giving seminars and providing consultancy on construction projects.
About Civil Engineering :
Civil Engineering involves the application of basic scientific and technological principles to the design and construction of facilities necessary for the welfare of the community. It is concerned with such projects as railways, harbours and docks, road systems, bridges, water supply and wastewater treatment, dams, tunnels and mining construction, power projects, offshore structures, and domestic, commercial, and industrial buildings.
The effective practice of civil engineering necessitates a strong background in the mathematical and physical sciences, an understanding of the properties of construction materials such as steel, concrete, timber and natural aggregates, and an ability to evaluate the performance of structures under variable forms of loading.
Areas of Study :
To fulfill our outstanding in Civil Engineering fields, the department exhibits strength in undergraduate and postgraduate teaching and research. We have major study in areas of concern as follows:
Structural Engineering
Geotechnical and Soil Engineering
Transportation and Highway Engineering
Hydraulic and Water Resource Engineering
Construction Engineering and Management
Survey Engineering
Environmental Engineering
Please go to our research laboratories emphasized on our major study areas.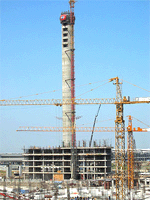 "We invite you to discover the challenges and excitement in Civil Engineering and explore our diverse teaching program and the wide range of research"