Concrete and Materials Testing Laboratory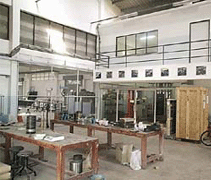 The Civil Engineering Concrete and Materials Testing Laboratory has wide space open area, which provide convenient and comfortable space for civil engineering materials testing. A space has been dedicated for the provision of undergraduate study lab and for services to outside organization. Each workstation is equipped with necessary instruments and accessories suitable to perform most laboratory tests. Additional tables with common mortar mixes and testing area are included in the student working area.
          Another space has been dedicated to aggregate and cement testing with sufficient aggregate sieves and crushers, ovens of different capacities, various balance scales and weighing machines, and a Los Angeles Abrasion Machine. A concrete curing area of 16 square meter is separated with water tanks. The uncovered space is used for aggregate storage and concrete mixing area for laboratory courses.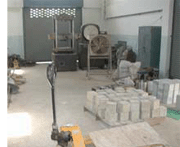 The rest of the covered laboratory space is dedicated to research. It also includes an area equipped with universal testing machines of various capacities. These equipments cover all necessary ranges for testing and are complemented with several load cells and a LVDT. An electronic testing system including digital data acquisition, load cell and LVDT is being used in various types of tests. For calibration purposes, proving rings of various capacities are available.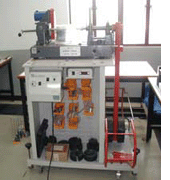 The laboratory is equipped with several non-destructive testing equipment such as ultrasonic pulse velocity meters, rebound hammers, rebar locators, Windsor Probe Apparatus and a core drilling machine. Laboratory equipment is in good condition and properly maintained, and is capable of performing the great majority of physical tests on civil engineering materials. The overall condition of the equipment to meet instructional requirements at the undergraduate and postgraduate level is very good.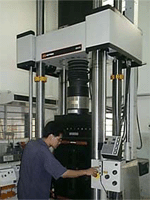 Not only for basic study and research, we also provide consultant service and materials testing such as concrete, steel, brick, etc. to outside organization